5 Books for Expectant Moms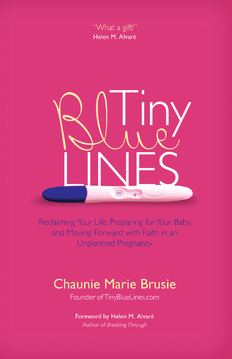 With all the emotions and joyful chaos of pregnancy, sometimes you need to sit back and take time for yourself. Here is a short list of books for young moms preparing for motherhood. These books are a great source of hope and help whether this is your first time or your third! Take a moment, kick up your feet, and start flipping the pages. You'll be glad that you did.
(Not preggo?? Consider buying one of these books for a friend!)





1. Tiny Blue Lines
Tiny Blue Lines is the perfect book for you or your friend who is going through an unplanned pregnancy. Author Chaunie Brusie shares her college pregnancy experience. Young mamas, Chaunie knows exactly what you are going through! This book provides excellent advice for answering tough questions like whether to give the child up for adoption, to marry the father, to stay in school, to pursue a career, and how to process their experience in a way that frees them to move forward. Don't forget to read all the way to the end to learn the "6 Lessons from an Unwed Mother"!
2. A Bump in Life
In the book A Bump in Life, Embrace Grace founder, Amy Ford, shares 22 unplanned pregnancy stories (including her own!). These stories are a great reminder that you are not alone, and you may even find yourself exclaiming– "That's my story!" A Bump in Life is a great source of encouragement and hope for any young mom facing the challenges of an unplanned pregnancy.
3. The Girlfriends' Guide to Pregnancy
Pregnancy is not all glowing mamas and cute bellies. Vicki Iovine delivers a "no holds barred" style guide to pregnancy. Do you really want to know what to expect? Read this book. Vicki provides a very honest critique of all the "lovely" physical and emotional experiences of pregnancy. If you want to laugh, this book is for you.
4. The Gentle Birth Method
If you're looking for natural ways to improve your pregnancy experience, check out The Gentle Birth Method. Whether you are planning on a hospital birth or something a little more unconventional, this book has helpful tips to prepare you for a natural birth.
5. What to Expect When You're Expecting
What to Expect When You're Expecting is a great read for any first-time mom! Hailed as "America's pregnancy bible," this book offers a comprehensive month-by-month, in depth look into pregnancy. You'll be informed of what to expect and provided with tons of FAQs from moms like you. If you want thorough, informative read, this is the perfect all-around book to read throughout your pregnancy.
Remember: Every mom has different expectations for what they want out of a pregnancy book. Some want to laugh. Others are looking for guidelines and advice. Some want medical, no fuss explanations. Others simply want to read a good story! Whether you are buying a book for yourself or for a friend, pick the book that best suits you or the expectant mom
If you have a story to share, or you want to become involved in the Pregnant on Campus Initiative, please email Beth at [email protected].