5+ Creative Ways to Advertise Resources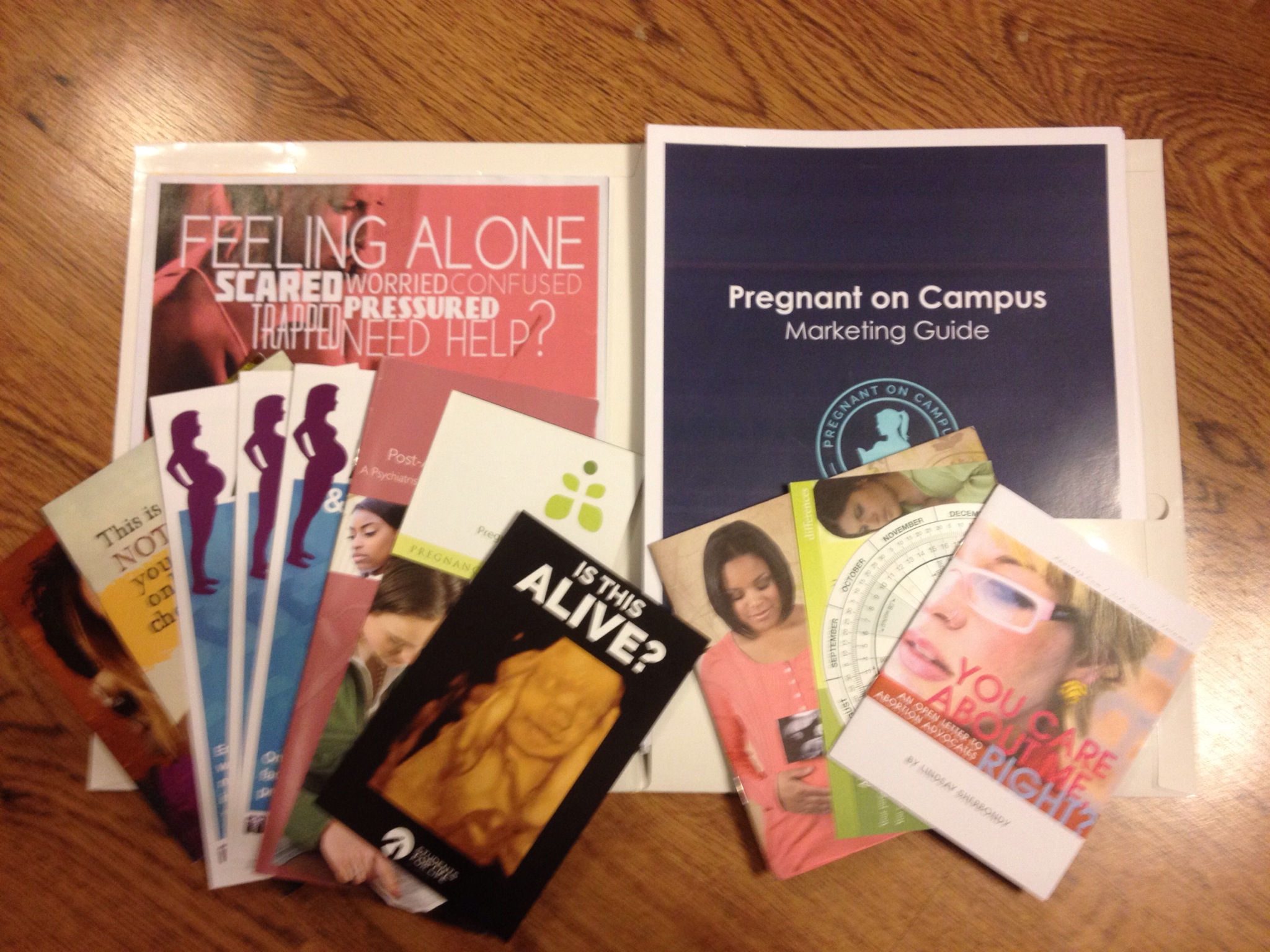 You surveyed your campus. You created a unique resource guide for your school… Now what?! Advertising pregnancy resources to your campus is an important and vital part of your group's commitment to supporting pregnant and parenting classmates. Having created a resource guide, you already have all the information at the tip of your fingers. So now it's up to you to share it with your campus. How do you do this? Here are 5 ways that you can share resources!
Create advertising materials
Your resource guide may be a bit to bulky to pass out to each and every passing student. So why not simplify it? Here are some ways that you can make your guide easier to distribute on campus: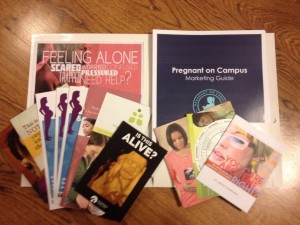 Business cards for your group. Business cards are easy to carry and hand out. Include your group's name, contact information, and Facebook. On the back, you should have a message such as "Pregnant? You are not alone" with a listing of contact information for your local pregnancy resource center and other pro-life pregnancy counseling resources.
Resource brochures. Break down your pregnancy resource guide into brochures. You may offer brochures such as:
"Pregnant? We can help!" – including steps to take if you find out your pregnant, who to talk to, what resources are available
"Financing Your Education" – outlining scholarships and grants available to pregnant and parenting students
"Parenting Made Easier" – providing listing of free pregnancy/parenting services, local childcare options, emotional and material support, etc.
Flyers. Never underestimate the power of a flyer! Pull tab flyers are particularly effective in providing valuable contact information for your group or for the local pregnancy resource center(s). Flyers should be easy to read and posted in high traffic areas of campus. For more tips, see here.
Host a Life Chain
Get your group together for a night of poster making. Members should create signs that highlight resources available to students. You should also include signs that offer positive, uplifting messages for pregnant and parenting students.
Need help with sign slogans? Here are a selection of messages that you can choose from:
Pregnant? You are not alone. Call __________
(Your group's name) offers (e.g. free pregnancy tests, babysitting, scholarships) for pregnant and parenting students
Pregnant? Parenting? We can help! Ask us about our pregnancy resources.
(Your group's name) loves and supports pregnant and parenting students.
(Name of local pregnancy resource center) offers free, confidential pregnancy testing, counseling, and support.
Ask me about campus housing for single parents and families!
Pregnant? (Your group's name) supports you!
Love > Judgement
Pro-Woman, Pro-Baby, Pro-Life
One you've made your signs, pick a time, date, and location for your group to host your unique Life Chain. Consider lining up along a high traffic sidewalk on campus between classes, or position yourselves in front of the Student Union around lunch time. Smile, wave, and talk to your classmates about your group's efforts on campus.
Chalk it up!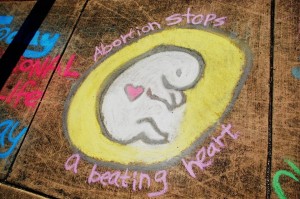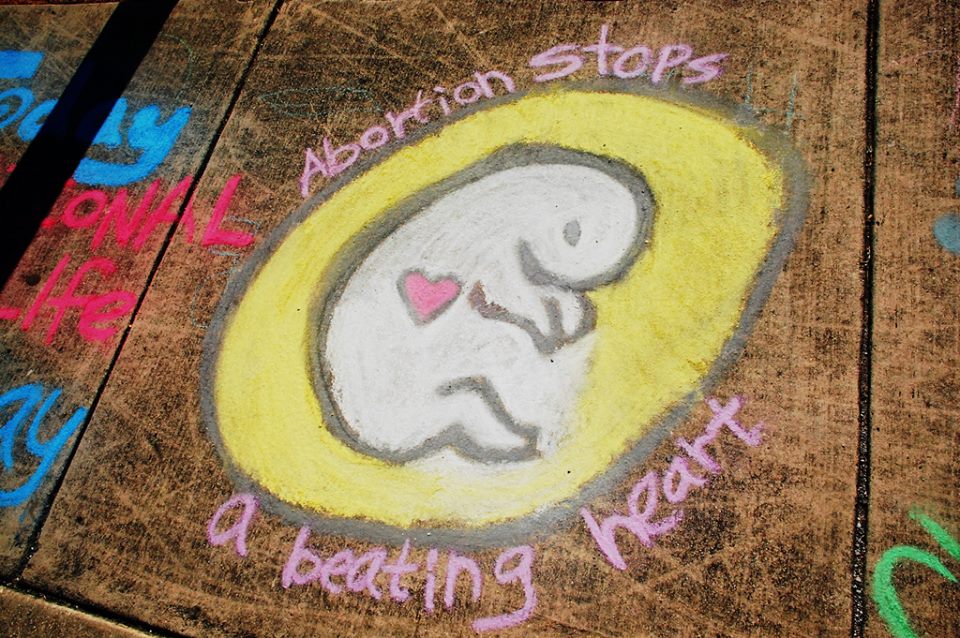 Chalking is a simple, fun, and effective way to advertise resources. Like your posters, chalk displays should have a mix of resource information and positive messages. You can also get creative and use chalk to draw a trail or arrows to your pregnancy resource table or to your Life Chain. Make sure that your display is in a high traffic area of campus– such as paths to academic buildings or in a brick quad close to the Student Union. The more people who see this, the better! (See more chalking tips here.)
Write an article for your campus newspaper.
Write an article for your campus newspaper explaining the challenges of pregnant and parenting students. In the article, be sure to note helpful resources on campus and in the community– such as your local pregnancy resource center's free services. You may even want to include notes about pregnant and parenting students' rights to ensure students that they will not be punished academically or otherwise for their pregnancies.Don't forget to give your group a shoutout for your efforts on campus! Share what your campus what your group does on campus, and tell students how they can support your efforts!
Remember to keep an eye out for other opportunities for you to insert yourself into campus media. Lookout for articles mentioning abortion, pregnancy, student parenting, etc. to jump on opportunities to write a letter to the editor.
car window signs

You never know when or where you may run into a young woman who needs your support. Candle in the Window has created awesome car window signs to help spread awareness and support for women in unplanned pregnancies. On the front, it encourages passersby to ask you for help. On the back, it lists national resources that support pregnant and post-abortive women so that you can quickly offer help. You can request these signs from Students for Life, or your group can create unique car signs using sturdy cardboard and small suction cups (to hold the sign to the window). These signs can also be stuck on your dorm room door or on the door of your group's meeting room!
You have unlimited potential to transform your campus with resources! Take these tips and get creative. You can make a difference in your classmates' lives.
This post has been contributed by Beth Rahal, Pregnant on Campus Coordinator. If your group is interested in expanding pregnancy resources on your college campus, contact your SFLA Regional Coordinator or Beth Rahal to get involved in the Pregnant on Campus Initiative.