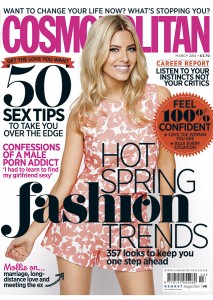 Fashion, sex advice, dating tips, and celebrity gossip, Cosmopolitan's glossy pages dictate what's hot and what's not to an audience searching for advice, pleasure, and distraction. As one of the most popular women's magazines, Cosmopolitan reaches millions of women with each publication and internet post.
In reviewing a variety of Cosmo articles, it is true that the magazine will occasionally provide a quick post on pregnancy-related tips and comments. However, Cosmo's audience may look no farther than the cover girl's edited curves for avid promotion of fabricated beauty. (If you're waiting for stretch marks and hips, don't hold your breath!)
Looking beyond the superficial, we discovered a few interesting pieces that reveal Cosmo's relationship with the A words (i.e. abortion and adoption). While we won't be ripping these magazines from your hands, we do ask that you take a moment to consider the message that Cosmo sends our lady friends, particularly the moms and birth moms among us.  Then, we will discuss how you can combat pregnancy stigma in the media.
What is Cosmo telling women about abortion and adoption? Let's find out!
"How Our Abortion Changed Our Relationship"

In a January 2014 article entitled "How Our Abortion Changed Our Relationship," Liz Welch shares the stories of 4 couples who chose abortion. She highlights statements from Cecile Richards, President Planned Parenthood and #1 cheerleader for abortion "rights." Richards comments on a generational shift which has resulted in men becoming more involved in the abortion process. "These men care deeply about the women getting an abortion," Richards states.
Here's a quick recap of the couples' stories:
Cindy, 23, shared the story of her 2nd abortion. At the time, she felt that the pregnancy interrupted her plans and that it would present a financial burden.  "I had all sorts of plans, and becoming a mother that young was not one of them."

Kristina, 24, talked about the confusion, anger, and emotional turmoil that surrounded her pregnanc

y and h

er abortion. 

"I had this idea that once I ended the pregnancy, I'd be fine. But I'm not the same person I was, and I never will be. I felt conflicted…and then angry at myself for feeling that way… I would not do it again."
Brittany, 23, shared the strains in her relationship. "Brandon wanted to come, but I told him not to. Instead, he sent a check for $500… I was so pissed. I thought, I have to get this thing done, and he gets to sleep in? … Later, when I told Brandon I had been 10 weeks along, he Googled what that looked like and the image shocked him. I did not want to see it… I got mad at him a lot that summer. He was going out while I was in bed, watching movies, healing — not physically but emotionally."
Emily, 32, said, "It was the humane thing… and it devastated us." Emily and her husband, Dave, talked openly about the abortion of their preborn son, Aaron Jack. "I thought since I do this for a living that I was going to be fine. But then two days later my milk came in, and I completely lost it."
With each story, the author allowed for the couples to share openly and honestly, without adding any comments or critique. It certainly took great courage for these couples to discuss these heartbreaking moments with a national audience. Unfortunately, what we read is a great lack of support from the men to seek out other resources and even to be strong for these women when they were going through such turmoil.
Yes, we agree that men should become more involved in women's pregnancies and in the discussion about options. Yes, we agree that we should hear more of these personal stories about abortion. However, Cosmo has failed their female audience.
Cosmo gave the "okay" for men to hand over a check and wipe their hands of this situation. Sure, the men added a comment or two about their experience, but what good does this serve the women involved and the female audience? Shouldn't men be offering more than conversation– like compassion and support?
In addition to trivializing the significance of this decision (i.e. that abortion kills a child), this article fails to provide a proactive solution to the problem. Instead of encouraging their audience to seek out resources and a full range of options and support, the article ends abruptly with a suggestion to call Exhale, an organization that supports abortion. The article fails to provide information for resources that could assist other women in similar situations so as to help them make a fully informed decision.
These stories, while difficult, noted common reasons for why women make the desperate and devastating decision to abort their child. Unfortunately, each reason could have been addressed with the right resources. Rather than wait for women to make such a emotionally devastating (and life ending) decision, it would have been appropriate to provide a proactive answer to their female audience by including information for seeking out resources.
Hope is not lost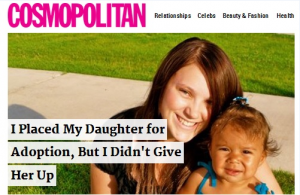 After reading several other Cosmo articles promoting abortion, one would think that all hope is lost for this media empire.  (See here, here, and here.) Nevertheless, a recent article featured the other rarely seen A word– adoption. 
In Liz Welch's March 20th article, "I Placed My Daughter for Adoption, But I Didn't Give Her Up," Jessa Speight shares the confusion, anger, sadness, and eventual peace that she found in adoption. At the end of the article, Jessa emphasizes the empowering choices of the birth moms to whom she now ministers.  "These women leave feeling less alone and more empowered. They realize their lives are not over and that their choice, however painful, was always made out of love for that child."
With this article, we are grateful that the author took the opportunity to highlight a birthmom and her experience with adoption. This effort acknowledges the hundreds of women who pursue adoption as a loving choice to better benefit their child.
Cosmo: Here's Your challenge
Let's be honest. We don't expect a magazine like Cosmo to ditch the pro-abortion posts and join the chorus of "Abolish abortion!" In a perfect world, it would be wonderful if they opened their eyes to the emotional and physical harms of abortion. For now, our expectations are simpler. We hope that in future posts the magazine will promote a greater support for pregnant women by promoting resources and support. We hope that they will move away from such articles as "How to Handle Your Best Friend Getting Pregnant" (which emphasizes the selfish "betrayal" of friendship caused by pregnancy) and instead promote more life affirming articles like "I Placed My Daughter for Adoption, But I Didn't Give Her Up."
What Can I Do?
The media has a powerful influence over our society, and it can certainly effect a woman's morale, decisions, and perceptions of motherhood and pregnancy options. We encourage you to speak out against the stigma against pregnancy and to promote life affirming support and resources. Offer your stories. Share resources. Empower women to make an informed choice for parenting or adoption. Here's what you can do:
Get on social media. On Facebook and Twitter, post pregnancy help information, such as the phone number and services of a local pregnancy resource center. Post life affirming messages, articles, and images. Like and follow groups that offer support, assistance, and encouragement for moms. If you are more tech savvy, create a YouTube channel to offer viewers a peek into the mom life or to promote education about pregnancy, parenting, and available resources.
Join social media campaigns. Remember the campaign #WhatWomenNeed? Cecile Richards and her pro-abortion cronies tried to promote abortion, and pro-lifers responded with pregnancy support, resources, and true compassion. Stay alert for social media campaigns like this, and join in the action!
Write a blog. If you are a mom, put your fingers to the keyboard! Share your stories, tips, and encouragement. You can also fight against stigma by writing blog posts that counter other blogs to point out misconceptions and assumptions.
Get active in a pro-life group. If you are a college student, join your pro-life group, and encourage them to take part in the Pregnant on Campus Initiative. With more people committed to the same goals, you can make great changes happen!
This post was contributed by Beth O'Malley, Pregnant on Campus Coordinator. For comments and questions, please email Beth at [email protected]