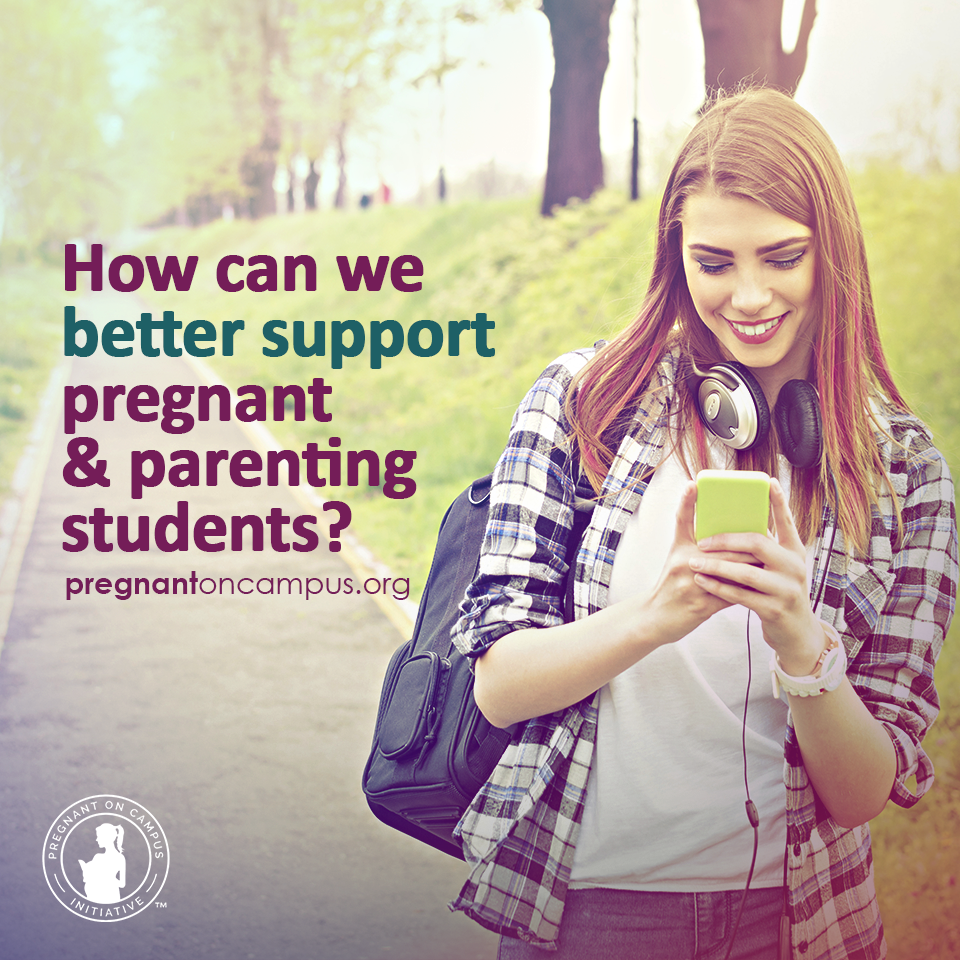 This week, Georgetown University's campus was abuzz with the controversial arrival of Cecile Richards, President of Planned Parenthood Federation of America. Invited by the undergraduate student group The Lecture Fund (known for bringing diverse and sometimes radical speakers to campus), her presence on campus brought mixed reactions. During the day, the student group Georgetown Right to Life provided a large pro-life display (including flags to represent the 3,000+ lives lost to abortion each day in the US) and an evening lecture by Abby Johnson, former Planned Parenthood director turned pro-life advocate and founder of And Then There Were None. The group was supported on campus by local activists and pro-life organizations, like Students for Life of America (who presented alternative healthcare resources and our Pregnant on Campus Initiative). Other students, like H*yas for Choice (a student group that is "financially and ideologically independent organization" yet an active presence on campus), tabled in Red Square with representatives from Planned Parenthood of Metropolitan Washington Action Fund.
Amid all the chaos and chatter , my 8-month-old son and I spent the day talking to students about the Pregnant on Campus Initiative and the resources available at Georgetown. I wanted to find out what students knew about the available pregnancy and parenting resources and what they thought would be helpful solutions to making a Georgetown education more accessible to pregnant and parenting students.
At the heart of it all
To be clear, the Pregnant on Campus Initiative is committed to expanding and referring to resources that are helpful, compassionate, and non-violent. We believe that women are strong and capable, and  that no woman should be forced to choose between the life of her child and her goals. Pregnancy and parenthood doesn't have to change her goals. With the right support and resources to address her unique needs, she can make a life-affirming choice for her child (i.e. parenting or adoption) and achieve her personal, educational, and career goals.
At the heart of it all, the question that we all want to answer is: How do we best support women? Despite varying positions on abortion, we can all agree that we should support pregnant and parenting students and that there should be an active effort to expand pregnancy and parenting resources on campus. With more support and resources on campus, education can actually be accessible to parenting students and not just wishful thinking. This is an issue where we all can work together to make Georgetown University (or any college or university) a place where women feel supported by their community and where they can achieve their educational goals– regardless of parenting status.
What does Georgetown offer?
So what does Georgetown offer pregnant and parenting students? I investigated Georgetown's pregnancy and parenting resources, and here are some of the items that I found:
Other departments on campus are available to support pregnant students needs. For example, the Title IX Coordinator and the Academic Resource Center could work with pregnant students to inform professors of students' Title IX rights and appropriate accommodations for pregnancy-related issues that may affect work or classroom performance. Campus Ministry could also provide guidance for students who wish for spiritual support.
Local resources that students may take advantage of include (but are not limited to):
Multiple pregnancy resource centers (including The Northwest Center, Centro Tepeyac Silver Spring Women's Center, Capitol Hill Pregnancy Center, HOPE in Northern Virginia, and Capitol Hill Pregnancy Center) that offer free, confidential resources and support such as pregnancy support and counseling, ultrasounds, material aid (e.g. baby items, maternity clothes), adoption services, after abortion support, housing, community referrals, parenting classes, prenatal classes, etc.
Room for improvement
As with any university, Georgetown has room for improvement. As I spoke to students and other passers-by in Red Square, I received some of the following feedback:
Students do want to discuss these needs and to work together to provide more resources and support on campus.
The Hoya Kids Learning Center is not a viable option for students. A parenting student stated that it is too expensive ($1,150+ per month depending on child's age). It also does not offer infant care, and the waiting list would be a deterrent for parenting students. ("Families should expect to be on the Hoya Kids waiting list for 18 to 24 months or more.")
The availability of flexible class options (e.g. online and night classes) may affect some parenting students who need to schedule classes to accommodate a full schedule of child care, working hours, and/or other family needs.
Transportation might be a concern for a parenting student who needs to get to-and-from campus quickly to pick up her child from child care or to relieve a babysitter.
The overall expenses of a Georgetown education and the expenses of raising a young child may pose pressure on a student to leave Georgetown or consider abortion.
I found that most students whom I spoke with (including a currently parenting student who had her child while studying at Georgetown) were surprised by the above-listed available resources. Several people stated that while these resources were helpful, they weren't enough to meet the real financial and child care demands of a parenting student.
In furthering exploring this issue, I made a visit to the Intercultural Center to see one of the lactation rooms (Mother's Rooms) on campus. While the room was locked, I was surprised to see that the entrance had cement stairs which would limit stroller access into the room and would be problematic for new moms who may struggle with some mobility issues after a c-section or difficult labor/delivery. I was also surprised that the women's bathroom nearest this Mother's Room lacked a diaper deck or even a counter space that could accommodate diaper changing needs. That being said, I want to note that on a previous campus visit, I was easily accommodated with access to another Mother's Room on campus which was stroller accessible, comfortable, and well equipped.
Georgetown can do better
Georgetown has made a good faith effort to address the needs of pregnant and parenting students. (In fact, they've done a lot more than many of the private colleges I've reviewed.) However, it is clear that students on campus remain concerned and even distressed about the lack of some resources. Georgetown can do better.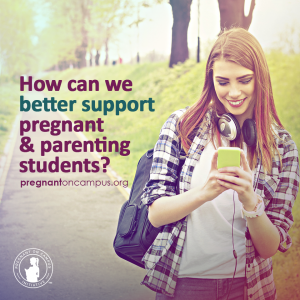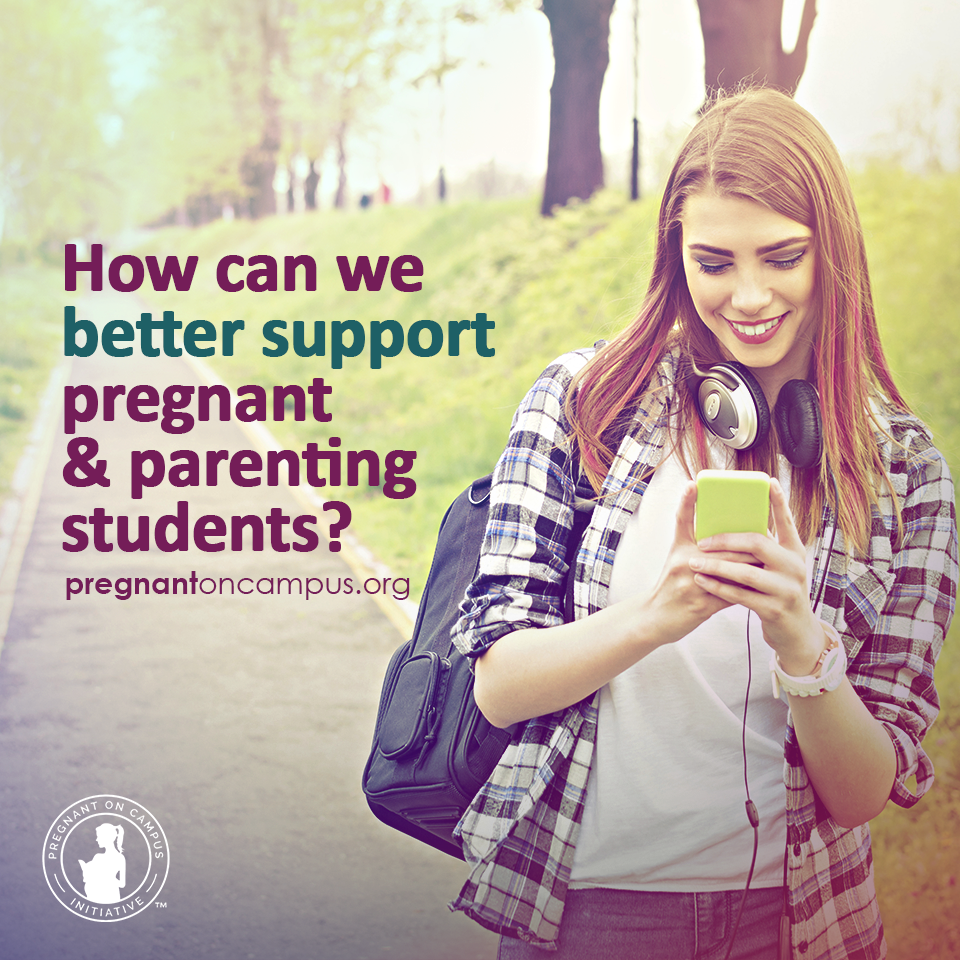 The Georgetown community can and should work together to continue to address this issue. To make Georgetown truly accessible to pregnant and parenting students, continued efforts must be made on campus to make Georgetown more "family friendly" and to decrease the financial burden of parenting students (e.g. by adding more diaper decks on campus, expanding campus child care programs, increasing aid opportunities for parenting students). Such efforts would not only benefit students but also working mothers and visitors. Even more so, these improvements would boast a true commitment to the Jesuit value of "Cura Personalis."
This post was contributed by Beth Rahal, Pregnant on Campus Coordinator. If you are interested in expanding pregnancy and parenting resources on your campus, please contact your SFLA Regional Coordinator or email [email protected].