Carolina SFL awards 2 $500 Parenting Students Scholarships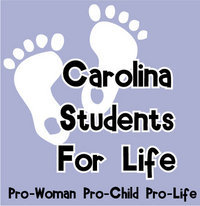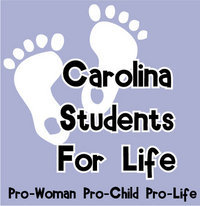 One of the most common challenges for pregnant and parenting students is finances. Balancing a college tuition with the costs of child care bear heavily on a young woman's decision to make a life-affirming pregnancy decision. However, the tide is turning, and we are witnessing an increasing number of student groups organizing scholarships and assistance funds for pregnant and parenting students.
Enter Carolina Students for Life.
This year, Carolina Students for Life offered two $500 Parenting Students Scholarship to parenting students in need of financial support, and their applicant pool was larger than ever with over 15 students vying for the scholarships.
Even after 5 years of their Parenting Students Scholarship, the group is confident that it continues to be a worthy and needed project. "The reason why we continue to offer it is that it is one of the really concrete ways that we can really help parenting students," stated Josh, a recent graduate and student leader of Carolina Students for Life. "Getting an undergraduate degree, especially if it's one at a university as prestigious as UNC, goes a long way toward financial stability, and we want to help make it a viable choice to parents."
We asked Josh to tell us more about this great project. Here's what he had to share!
What are the eligibility requirements for the scholarship?
"To be eligible to receive the fund, one has to be a student at UNC Chapel Hill, either graduate or undergrad, and be parenting or pregnant. The scholarship application goes out usually in October or November and close on January 1. The application can be obtained by emailing CSFL. We advertise using flyers around campus and at dorms, especially the one that offers housing for families, emailing out listserv, and communicating with the Parenting Students Association group. The scholarship application includes questions about demographics, financial situation, the family situation, what the money would help with, and broader questions about parenting as a whole."
How does Carolina Students for Life choose the scholarship recipient(s)?
"Almost all applications provide excellent replies about parenting: their motivations, the impact it has on their lives, and how rewarding it is. Our decision is always very hard to make… and it almost always comes down to their financial situations."
What have you learned from providing this support to parenting students?
"I've learned that these students really love their children and do not regret their decisions to keep them, even though it is very difficult to balance parenting and school. They almost uniformly say that they basically sacrifice the whole of their social lives, and many of them essentially live on loans, though they have a diverse set of backgrounds and many have sizable scholarships and grants. Meeting with the recipients and their children is such a joy."
What advice do you have for other student groups who want to offer a pregnant/parenting student scholarship?
"If I have any advice for other groups, it is that advertising is so crucial! Flyering at the dorm with family housing really makes a big difference we've found. Of course, successful fundraising is also necessary. While university students may not be a great source for fundraising, local churches or other groups are very receptive to our cause and very generous!"
Thank you, Carolina Students for Life, for providing tangible support to your parenting peers!
If your group wants to organize a scholarship or assistance fund, check out the Pregnant on Campus activity guide "Pregnant and Parenting Student Assistance Fund." For assistance and support, please contact your Regional Coordinator or our Pregnant on Campus Coordinator.