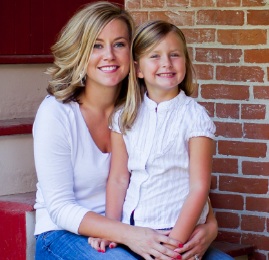 In her junior year of college, Ashlee Bush found out that she was pregnant with Anna Mae.  At 21-years-old, Ashlee was already making plans for her future, and being pregnant was the last thing that she expected.
Maybe you are going through a similar situation- or you know a friend who is. Either way, remember that you are not alone. Ashlee is one of many young women who knows the fears and joys of being a young mother. Take some time to watch Ashlee's story, and read Ashlee's answers to commonly asked questions about her experience!
QUESTIONS AND ANSWERS
Tell us about the emotions you went through during those first few moments/weeks/months.
The first minute was total disbelief and shock! I immediately left my apartment and drove to K-Mart to buy another test.  This time, I ran into a few classmates and uttered, "This is for a friend."  I got a sympathetic grin and hurried to the register.
I felt like I was in movie or a bad dream.  I started to pray, and I kept thinking to myself that this cannot be happening! I took the second test at a close friend's house, and it was positive – again! More total disbelief, fear, anger, shock, and embarrassment washed over my body as I began to cry. My friend just kept telling me that I will be okay, and she reassured me that everything would work out the way that it was supposed to.
Not long after, I told my family, and the haze of disbelief started to dissipate. The reality of the situation set in, and I got moving.  I planned my school detour and decided to transfer schools to be closer my parents once I completed the current semester.
The remainder of my pregnancy was joyful. It was all about staying healthy, eliminating stress, and delivering a healthy baby.  I would sing to her, talk to her, and put headphones on my belly when I would study.
 What was your relationship status at the time?
It was complicated.  I was single and starting to get to know a guy from school.  The New Guy and I had been in a class together all semester, and we had finally started talking after months of casually exchanged smiles.  We talked and texted when we went home for holidays and at that time, my ex-boyfriend that I had not seen in few months wanted to take me to dinner. I agreed to meet him. Unfortunately, I drank way too much and wound up sleeping with my ex once.  When I went back to school, the New Guy and I had finally made plans for a real date.
It feels strange to say it out-loud now, but telling him was probably the hardest thing I had to do during my pregnancy.  I liked him a lot.  (The timing couldn't have been any worse- or so I thought at the time.)
He surprised me with his first question, "Have you started taking pre-natal vitamins?"  The next day, he brought me a bouquet of flowers to congratulate me.  Later, I would find out that his sister had gotten pregnant while in high school. So, he understood my situation all too well. I was very fortunate to have his support throughout my pregnancy. I believe that he was put into my life at that exact time for a reason. Our friendship would eventually end as I decided to try and make it work with the father.
How did your friends and family react?
My family and true friends cried with me.  They could not believe that this had happened. Once the initial shock wore off, they were excited for me, and they wanted to help.  My family and friends would tell me about any resources that they found out about successful stories of young moms or moms who graduated school.  I felt their support for my decision every step of the way.
Sadly, I had one friend that thought my choice was "stupid."  She thought my life was over and that my future was ruined. She was convinced that I would never be able to finish school if I went through with the pregnancy. However, I am proud to say that I have been able to be both a mother and a student. My decision was not "stupid"—but rather a choice made out of love for my child.
How has Early Motherhood changed you?
I used to be the girl who wanted to make sure everything looked and sounded perfect before life taught me to enjoy the journey and all the unplanned surprises. When I had to face something that did not make me look so good, I started to change. Slowly, one day at a time, I started to morph into the person who I always knew was hidden deep inside myself. Early motherhood has taught me to be more flexible in life- which, as it turns out, is a wonderful skill to have in adulthood!
What has your daughter taught you about yourself? About life?
Oh goodness…She has taught me so much!  I never knew how much I could love another person. The love that I feel for her is so pure and real.  It is unlike anything I have ever experienced.   Overall, the pregnancy taught me that there are no guarantees in life.  Life will change in the blink of an eye, and it's best to just ride it out as best as we can!
What were some of the misconceptions you had about early motherhood/unplanned pregnancies?
As cliché as this sounds, I thought that it would never happen to me.
What prompted you to start blogging?
My world got turned upside down seven years ago. I was shocked and embarrassed that I was facing an unplanned pregnancy. Once that initial shock wore off, I was saddened by the lack of resources for young moms.  At times, I felt lonely being the only pregnant girl on campus and desperately wished that I could have connected with other women going through similar situations. A few years ago, I kept thinking about all of the unexpected moms who might be feeling alone, scared, and unsure of themselves — like I did — and decided to give blogging a try.
Fear is a powerful emotion. It can either make you feel paralyzed and trapped, or help us grow and change gracefully. It kept me from taking a huge leap of faith to even start to my blog Action Ashlee.
Why the title "Action Ashlee"?
Action because without action, we cannot change and grow into the people we want to be. Ashlee because it is a popular name that can be the face of a lot of typical 20-something women. Our motto: "Change gracefully. Live purposefully."
If you could give

one message to the young women facing unplanned pregnancies

, what would it be?
To the woman facing an unplanned pregnancy – I believe that you have the most fantastic intuition and harbor an incredible amount inner strength and courage that you don't even realize is within yourself. Follow that inner voice because it is YOU and only YOU that you need to listen to.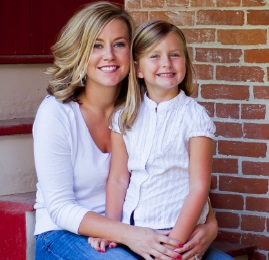 Ashlee Bush lives in Missouri with her husband, Greg, and daughter, Anna Mae. She faced an unplanned pregnancy at age 21, graduated with her bachelor's degree in Communications, and developed a three-step systematic approach to handling an unplanned pregnancy. By day, she is a healthcare representative for a home health organization. Her life-long passion is to help other women get through their unplanned pregnancy. She dreams of ending abortion and pulling together a strong grassroots effort to promote the benefits of giving life. Her blog, Action Ashlee: Change Gracefully & Live Purposefully, offers a wealth of inspiration and hope to women of all ages wanting to change gracefully and live purposefully. 
Follow Action Ashlee on Twitter and Facebook, and read her blog at www.actionashlee.com.