Brooke Foster: Athlete, Student, Mom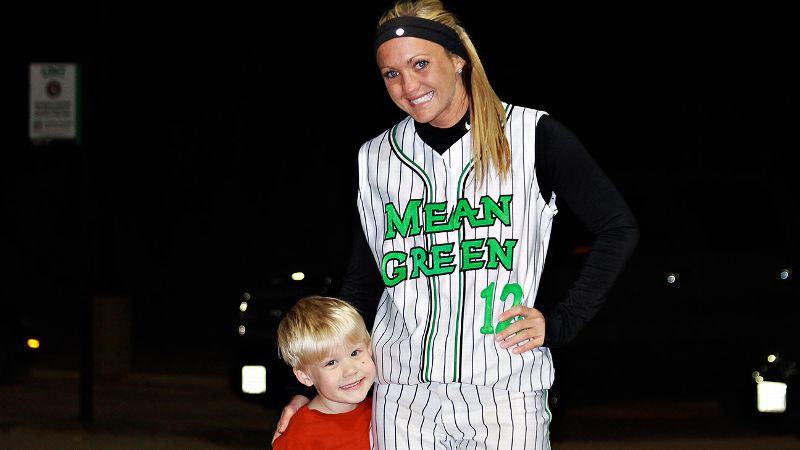 24-year-old North Texas shortstop Brooke Foster isn't just an athlete. She's a competitor. She has worked hard to claim her prowess on the field. North Texas coach Tracey Kee said, "It's not until you get out here on a daily basis and see what the kid does. She just plays the game flat out… she's just constantly a true competitor. She doesn't take a day for granted. … She is our little engine at the front of the lineup that can drop a bunt or drive it out of the ballpark." In a recent game at Oklahoma State, Brooke hit .354 with a .677 slugging percentage. Not too shabby for an athlete who took 2 years off from the game.
On the surface, Brooke Foster appears to be just another great player on the field. However, Brooke's story is different from many athletes. Unlike other athletes, those 2 years were not spent redshirted recovering from a persistent injury or surgery.
Brooke Foster is a mom.
A high school standout, Brooke earned a softball scholarship to Houston Baptist University. In her freshman year, she discovered that she was pregnant. She dropped out of college, moved back to Wylie. Brooke assumed a full-time positioned at a local pharmacy in order to pay for her medical expenses. Through those months of pregnancy, Brooke and her family struggled to accept the challenges to their expectations and the stigma of unplanned pregnancy. She admits to feeling embarrassed and even ashamed at her situation.
On Aug. 21, 2009, baby Layton entered the world. While there remained challenges to embrace her new life, Brooke was fiercely determined to be a good mom. Looking back on that time, Brooke stated, "I was determined that [Layton] was going to be mine, and I was going to be able to raise him and I was going to be so happy. I was just so defensive over him. And I still am. Any time anyone tries to say anything, I'm like, 'You know what, I have been to hell and back so many times for this little boy to be here."
After watching the Women's College World Series on television, Brook was inspired to continue her pursuit of a college education. She joined the North Texas softball team as a walk-on and continued her education. Since joining the team, the 24-year-old senior has stood out for her talent on the softball field and her commitment to motherhood. Currently, Brook is the record holder for career stolen bases, and she is closing in on hitting records as well.
This year, Brook will also be the first of her family to graduate from college. Pursuing her college education and reclaiming her athleticism had trials. However, Brook has overcome the fears of the past and regained her confidence.
"I will never let anybody tell me that I can't do anything because not one person told me I could do this, and I'm doing it. I think [Layton] is going to be proud of me."
Reporter Graham Hays sums up Brooke's story beautifully. "Brooke could easily have become a cautionary tale, the uber-talented athlete whose unplanned pregnancy led her to drop out of school and drift away from a future once seemingly in focus. All of that happened, and left her on a precipice. Hers isn't a path even she would wish to tread again, not through times both dark and lonely. But Brooke came all the way back. Not to reclaim that which she lost, but to protect what she gained the best way she knew how. Really, the only way she knew how: with a bat and a glove."
This post was contributed by Beth O'Malley, Pregnant on Campus Coordinator. All images are credited to Graham Hayes, ESPN. If you would like to submit your story, please email Beth at [email protected].