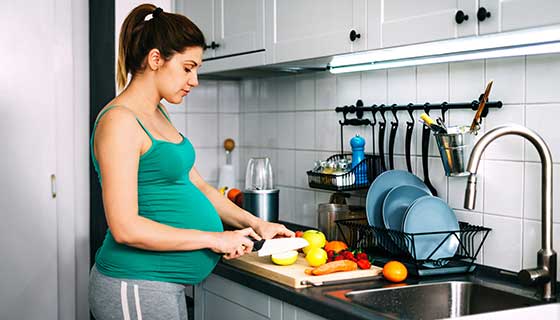 What is that thing that we do three times a day? Eat! Yet, despite how often mealtime rolls around, we never seem to see it coming. When you are growing a whole person inside of you or taking care of your young child all day on top of school and work, meals can become neglected even if that wasn't the intention. To help you solve this problem, let's discuss some basic meals that, with minimal prep work, can create a nutritious and delicious delight for you.:
The first step to making mealtime a success is to make the plan, do the prep, and keep it simple. This probably means waking up a little earlier or staying up a little later one day to make the plan and do the shopping. However, 15 minutes of planning will save those exhausting hours from dinner time to bedtime where everything can go to shambles…especially when there is no good food in the house.  
For success, choose two to three meals for the week along with the repeatable grocery items for breakfast and lunch (if you don't eat a hot lunch), make one grocery haul, and do all the preparation you can for those meals. This includes chopping, portion sizing, sauteing, and anything else necessary for the recipes.
With inflation hitting our wallets, this preparation will not only make mealtimes less stressful, but it will also keep you from making impulse purchases or going out to eat when you're in a pinch.
Lastly, the secret to easy meals is keeping it simple. There are so many options when it comes to food but having a place to store your tried-and-true options can simplify the process of choosing what to cook. For the recipes you love, start a kitchen binder where you can collect them or begin a Pinterest board so that they are all compiled in one location. When meal planning day comes around, you can go back there to help you plan the week.  
Here is a sample plan that has worked for my family to have affordable and simple meals for the week:
Oatmeal Breakfast Prep
It doesn't have to be this recipe, although these oatmeal cups are delicious. Any form of oatmeal can work, whether its overnight oats, instant oats in the microwave, or a pan of baked oats. They are filling, nutritious, and so affordable!
Adult Lunchables
The cheaper and healthier version of Lunchables is when you can prep a batch of hard boiled eggs. This is way more affordable than salami or lunch meat, and it is safe for pregnancy. Add in a piece of bread or crackers, whatever cheese you prefer, and then any other snack items you like (fruit, nuts, dark chocolate, chips, or whatever snacks are on sale at the store). This is no pressure, pre-packaged, and easy to munch on whenever the time arises for a satisfying lunch!  
Baked Pasta with Hidden Veggies
Not only is this hearty and warm, but it will cover all the bases all while barely making a mess in your kitchen….and it is kid approved! No-Boil Pasta Bake (with Veggies!) – Happy Kids Kitchen by Heather Wish Staller
Nourishing Soup
Comforting Chicken Noodle Soup Recipe: How to Make It (tasteofhome.com) With this recipe, you can easily add in some chopped celery, onion, carrots, or kale to increase the veggies.
Quesadillas
These are incredibly helpful to prevent food waste! You can add whatever you have on hand to fill them up! Some basic ideas are cheese and eggs, any meat with cheese, and leftover veggies — or go for a sweet one with peanut butter and fruit with a drizzle of honey. You can also never go wrong with a simple and delicious cheese quesadilla. They come together in less than 10 minutes and can help stretch foods that would have otherwise gone to waste.
Hopefully, this week of meals makes the kitchen a little less daunting. Whether you are carrying your first baby or in the throes of parenting, prioritizing meals will always benefit yourself and your family.