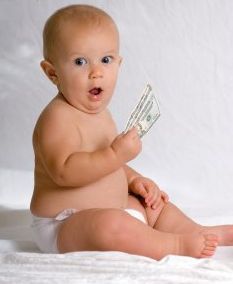 Dear Student Moms,
It is not easy. No, it is definitely not easy to pay for classes and books and housing and that little 15-lb. bundle of joy! How do you make ends meet when you are staring down countless bills and an almost empty wallet?
Here are some suggestions for finding free or inexpensive baby supplies:
1. Ask your local pregnancy resource center. Pregnancy resource centers (PRCs) often collect donations of baby food, clothing, and supplies that are distributed for free to moms in need. Contact your local PRC, and explain your need. Find the closest PRC to you by searching your zipcode at http://www.optionline.org/.
2. Take advantage of coupons and freebies! Sometimes it takes a little more effort to save– but your wallet will thank you. Sign up for online coupon websites, or browse the internet. Take advantage of programs, discounts, coupons, and freebies! Here are some suggested sites: Parenting.com, Baby Center, Deals for Mommy, Coupon Queen, Money Saving Mom, and Hunt4Freebies.
3. Search Craig's List for inexpensive and free items. With new listings everyday, you may easily find that crib that you cannot afford or even a stroller for free. Car seats, bouncers, clothes, and more are just a click away. Search the "Baby+Kid" or the "Free" section to find those items that you may need most. You can also find Garage Sales in your area!
4. Contact local churches. Many churches have outreach committees and programs to meet the needs of their community. Contact the pastor or priest at your church, and see if they have a program to meet your need. Remember: Ask, and you shall receive. 
5. Contact the pro-life group at your school. Many student pro-life groups are willing to organize community baby showers, diaper drives, and even fundraisers to support their peers on campus. These students also have community connections with pregnancy resource centers and support groups who can provide further assistance.
Best of luck as you continue to balance diapers and textbooks!
Sincerely,
Beth Rahal
Students for Life of America
Pregnant on Campus Initiative
Questions? Comments? Email Beth at [email protected].