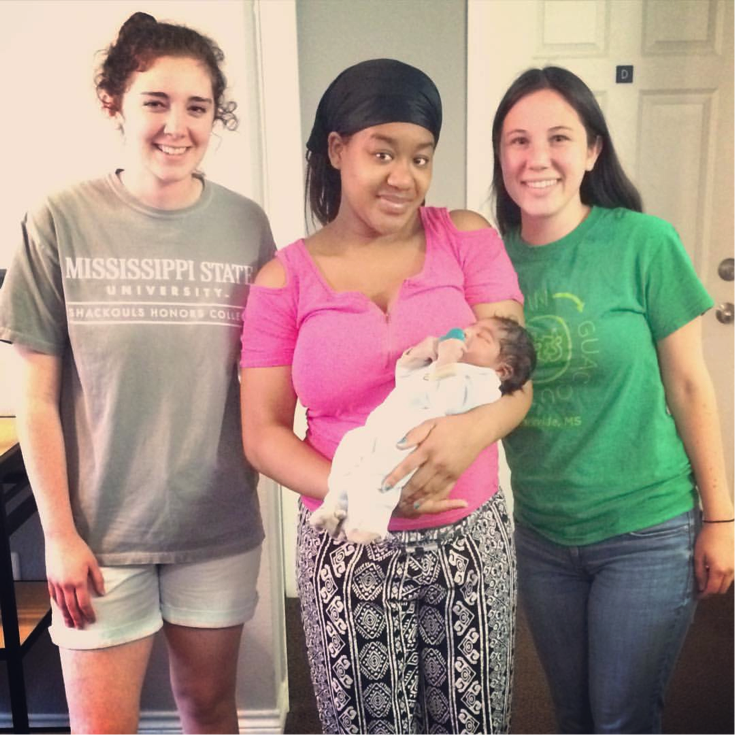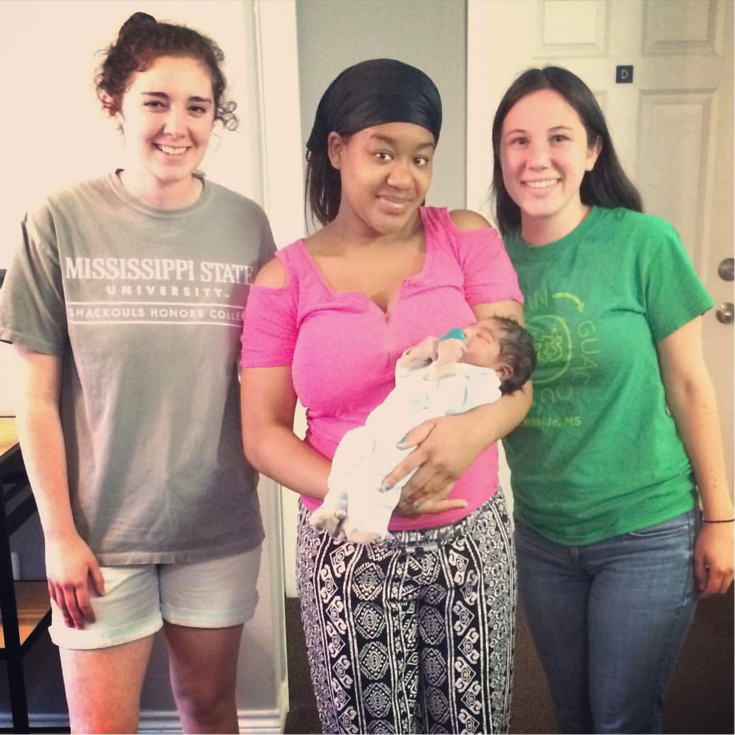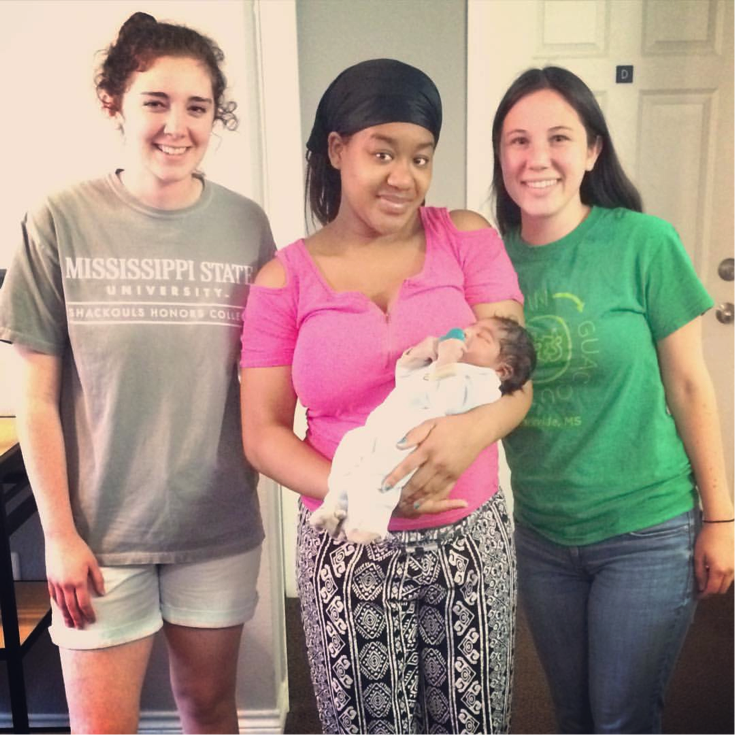 Every year, we receive stories from all over the country of parenting students and their incredible successes on campus. These young moms and dads work hard to care for their children and achieve their degrees. We are proud to share with you these parenting student success stories provided by Students for Life student group leaders in Mississippi.
Shurnita: "My life has a purpose."
This school year, Shurnita, a junior in Wildlife at Mississippi State University became unexpectedly pregnant. Her on-campus counselor let her know that there is a group on campus that has a program called the Pregnant on Campus Initiative. She contacted MSU Students for Life for help continuing her education while pregnant. Although being pregnant and taking challenging classes proved to be an intense balance, Shurnita had a community of students at her school willing to find baby items, job listings, and classes for new moms. As she prepared for her baby boy in the spring semester, she had a team of friends making sure that she had everything that she needed to succeed as a mother and a student. Not only did she survive pregnancy on campus– she thrived. Shurnita achieved the best grades that she has had in her entire college career.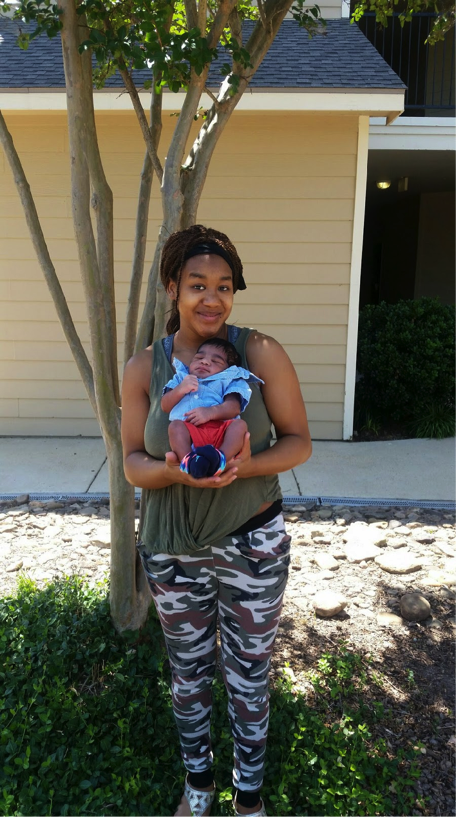 She attributes her academic success to two things: "I have to succeed in order for my son to have everything he needs. Being pregnant helped me realize that my life has a purpose and someone needs me and will always love me. That helps me continue to strive for success."
Shurnita also shared: "Students for Life's Pregnant on Campus helped me realize that I'm not alone and that someone will always be there if I need help. They helped me prepare for my son."
Adrean was born this May to a loving mother and a supportive Students for Life family. Shurnita will return to school as a senior in the fall.
Jalissa: "I'm proud of my decision."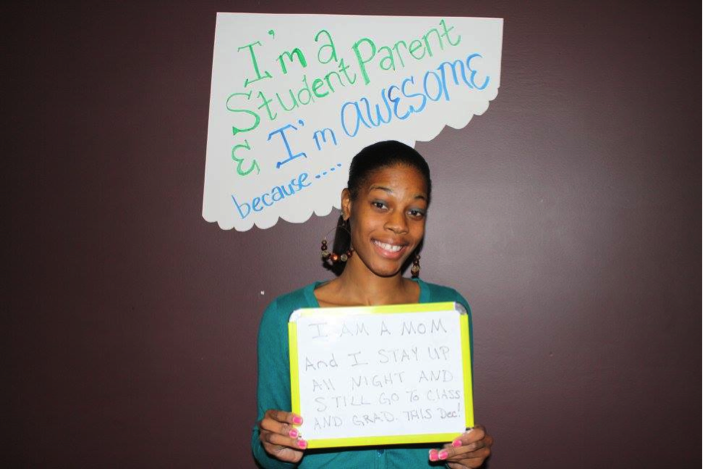 Jalissa, a senior at Mississippi State University studying Psychology, found herself in a difficult spot. She was a mom to a brand new baby girl and was a full time student. Her on-campus advisor referred her to Students for Life's Pregnant on Campus Initiative. She soon realized that she had a group of peers more than willing to help her find resources, job listings, babysitting, daycare information, and emotional support. Jalissa described the support she has received: "[Pregnant on Campus] has provided resources for me that I absolutely didn't know existed. The group also goes a little further than expected to help and that is amazing!"
Hannah Loper (the President of the Students for Life group at Jalissa's school) described working together with student mothers: "I've loved working with our student moms! It's opened my eyes to struggles that I never would have thought about when I had not met them. These moms have given us a chance to walk the walk and show that we want to see them and their babies do life well. That experience means the world to me!"
Jalissa is expected to graduate this December and to pursue a career in counseling. Her daughter, Jordyn, continues to bless her. Jalissa wants to share with the world, "I'm proud of my decision to stay in school while being a mom!"
"I'm a mom, and I stay up all night and still go to class and graduate in December!"
Amber: "It's empowering."
Amber, a sophomore in Anthropology at Mississippi State University, became unexpectedly pregnant during the school year. Her church referred her to her campus' Students for Life Pregnant on Campus Initiative for the aid that she needed. Since coming to SFL's events, she has experienced an outpouring of support from the community of peers and individuals who want to see her succeed as a mom and as a student.
Vice President of the group, Maggie Thomas, describes her own involvement this way: "Getting the opportunity to work with student parents made me realize how strong these parents are. They work so hard to make sure that they and their children have the best future possible. It's inspiring to see them balance so many roles and be successful. They are not only role models for their children, but for me and those that get to work with them."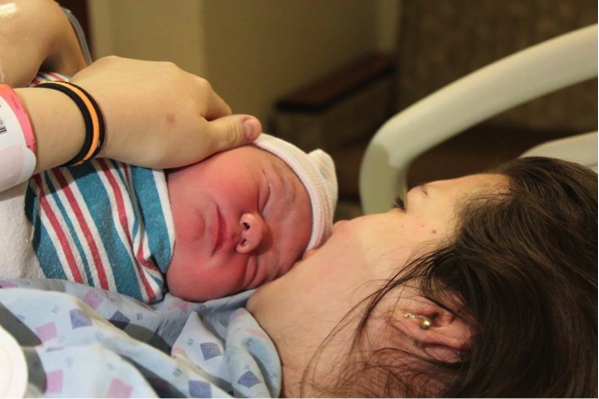 Amber described the empowerment she felt since being supported by the group. "Before, I walked around campus so embarrassed because I'm not married and I'm young. I didn't know how many women on campus were in my position, and it's empowering to have a group of women beside you through it. It's like a little community. It's great, and everyone is so helpful. If I needed something for my son, I could just ask!" Amber attended her campus baby shower hosted by MSU Students for Life and received several items from members of the community that SFL was happy to deliver to her. By the time her son was born, she had everything ready for him!
Amber also has a passion for other young pregnant and parenting students, and she is always eager to help. Her son Riley was born in May, and she shared that she loves "talking to him about everything!" She hopes to pursue a career in Biblical Archaeology after graduation. She shared, "We are determined to graduate so our children will have the best lives possible!"
Aysia: Determined to succeed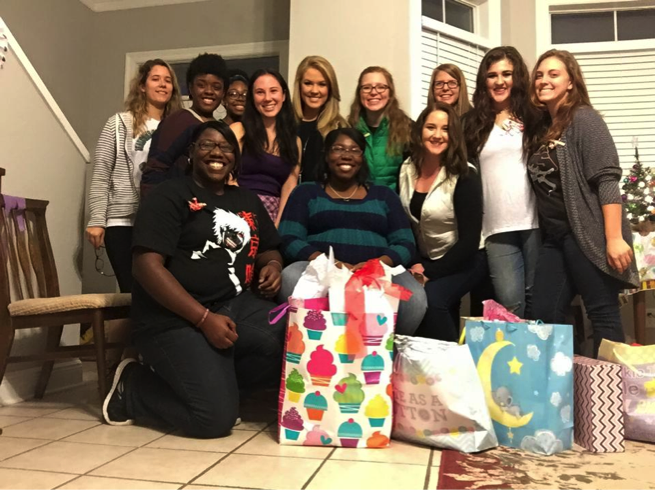 Aysia, a senior in Biomedical Engineering at Mississippi State University, discovered that she was pregnant before returning to school in the fall. She remained determined to carry her baby and return to school. She saw the Students for Life table at her school's Club Fair on the first week of school. It was her first week as a pregnant student right when she saw the sign-up sheet. Aysia attended the Interest Meeting and decided to become a member as a pregnant, pro-life student.Throughout her pregnancy, her school's Students for Life came together to throw her a baby shower, refer parent classes, babysit, and build lasting relationships. Aysia attended almost every Students for Life event during her pregnancy, worked night shifts on campus, and walked from her apartment to class every day.Fearlessly, she even joined her school's archery team.According to former President of MSU SFL, "She never complained. She only insisted on persisting."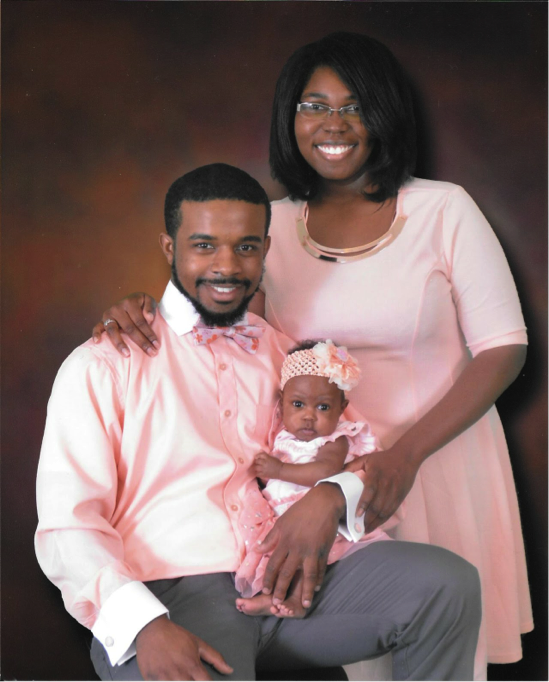 Unexpectedly, Aysia needed to give birth a month early right in the midst of finals week. Rushing to her unplanned doctor and hospital, she prepared herself for a premature birth. Her boyfriend, Roderick, immediately came to be with her through delivery. Friends she made at Students for Life were able to visit the hospital to give her things her and her baby needed.
Her baby girl, Evalyn, is a gift to the whole MSU Students for Life team. Mama, baby, and dad are often at Students for Life events on campus and have a made a habit of always giving as much as they receive. Aysia plans to be an optometrist after graduation.
"I'm continuing my education and caring for a four-month-old."
Thank you to student leader Anja Scheib for collecting these powerful stories! All images and quotes were provided at the consent of the named parenting students. If you have a story to share, contact Beth Rahal at [email protected]