Not your average fundraiser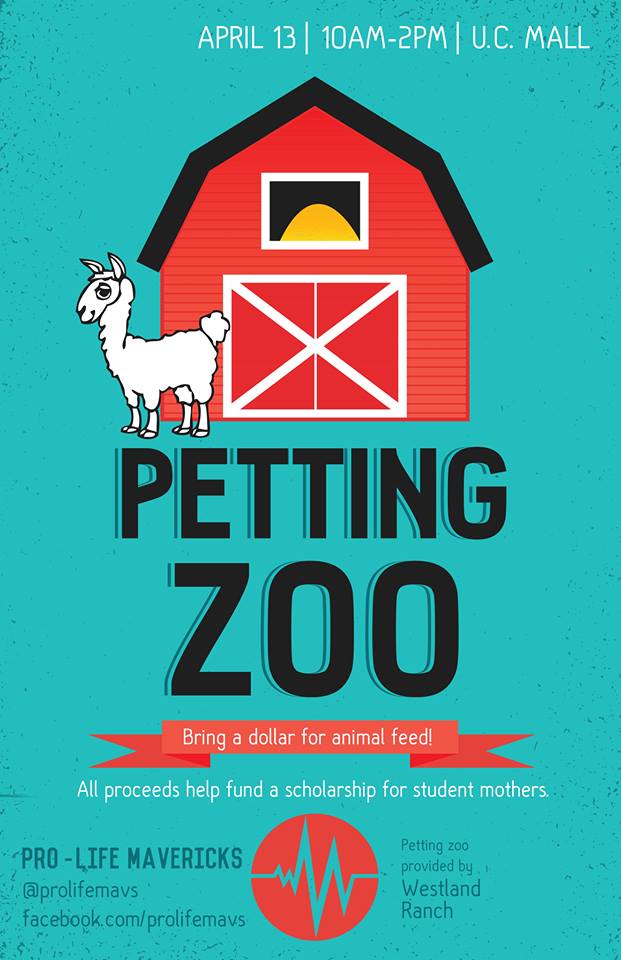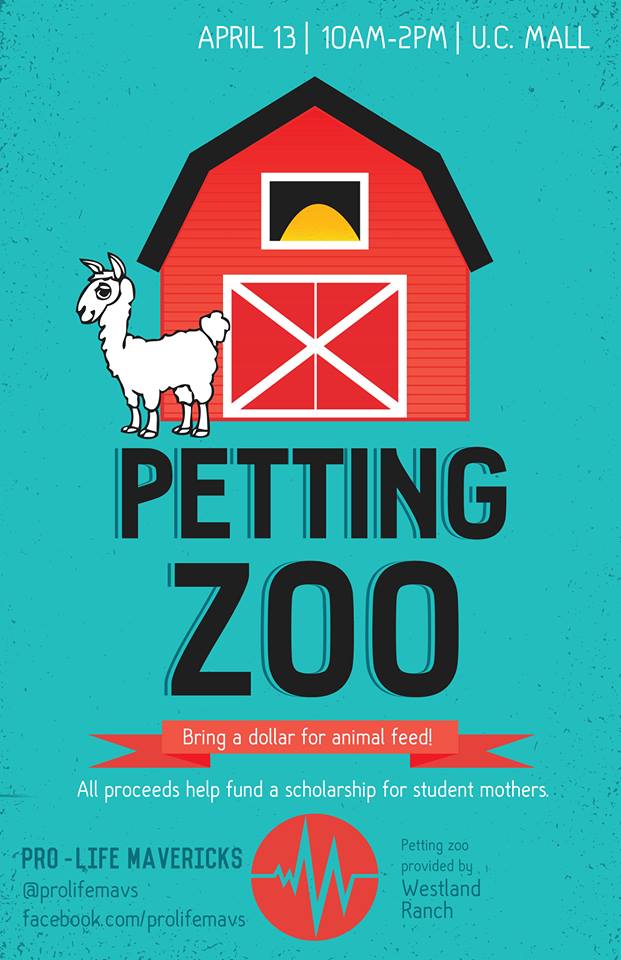 As the old saying goes, Everything is bigger in Texas! And this year, a creative group of UT Arlington students proved that they have big hearts and even bigger ideas!
UT Arlington's Pro-Life Mavericks is dedicated to serving pregnant and parenting student on campus, as well as supporting local organizations that assist families in need of support (such as the Arlington-Mansfield Pregnancy Center). This group is committed to educating students on campus, volunteering at nearby pregnancy centers, collecting baby supplies for mothers, participating in local and nationwide rallies, and supporting legislation that protects life.
This Spring, however, the group took their efforts to a whole new level by beginning fundraising efforts for scholarships for student mothers! And they didn't initiate this quietly. They brought in some furry friends to advertise!
Thanks to the generosity of Westland Ranch, the group was able to bring to campus a fun petting zoo to attract donations and support for their new scholarships. For a donation of $1, students could join in the fun and feed the alpacas, bunnies, goats.
When asked how they have supported this effort, group president, Ben Carlton, shared, "We have held a fundraiser at the International Food Fair at UTA this past Spring, and, of course, the petting zoo. A future fundraiser we are currently planning is a Pro-Life 5K run to be held in Spring 2016. We are currently looking for donors who would be interested in helping fund the Pregnant and Parenting Scholarship. The donors would have their brands on the T-shirts for the 5K run event and we are considering the possibility of tabling at the event as well."
The goal is to award 1-2 $1000 scholarships and 1-2 $500 scholarships to support pregnant and parenting students on campus. Of course, the amount of funding raised will determine the number and amounts of these scholarships. The Pro-Life Mavericks plan to begin accepting applicants by the end of Fall 2015 to the beginning of the Spring 2016. They are hoping to receive 7-10 applicants and to be able to award 2-3 scholarships of those applicants sometime in the middle of Spring 2016.
Thank you, Pro-Life Mavericks, for your creative efforts to support pregnant and parenting students!
This post was contributed by Beth Rahal, Pregnant on Campus Coordinator. If your group has hosted an awesome event, share your story by emailing Beth at [email protected]