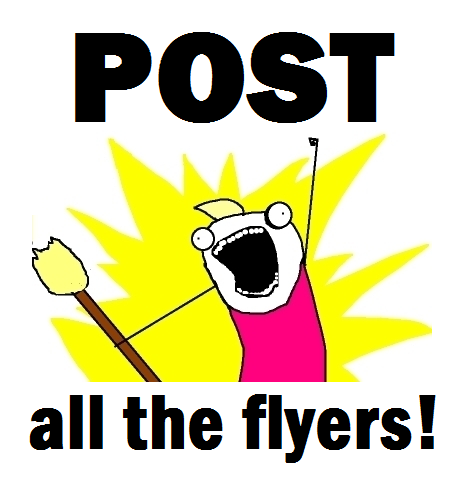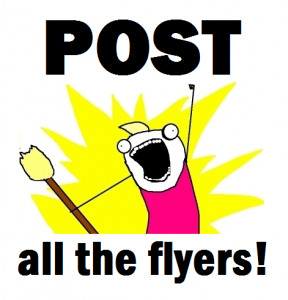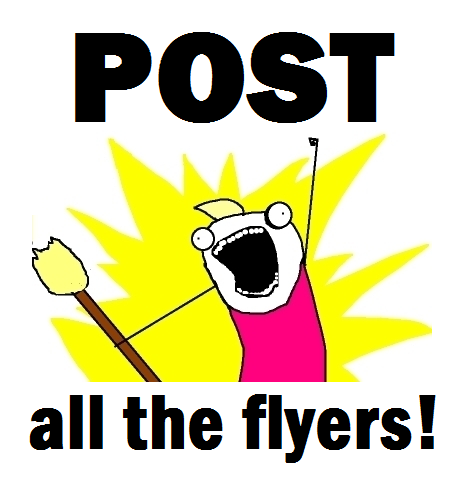 You're walking to class minding your own business, and then BOOM! Your eyes rivet to a sheet of bold color with a glaring headline. 
FREE FOOD IN THE QUAD! Come and get it!
Colored across this glorious rectangle is a grease dipping pizza and 3 smiling college students. You're staaaarving (or so you think), and this flyer reaches out to you right in your moment of need. You weren't expecting it. You weren't looking for it. But there is was. By golly, someone did their job right! With these powerful words and saliva-inducing images, that flyer caught your attention, attracted you to the event, and satisfied your need.
This is the power of a flyer. A flyer creates a moment for someone to discover something that they need (e.g. resources, services, opportunities).  It sits quietly on a wall begging to be read by the one person who needs that information. Now, when we are talking about your pro-life group's outreach efforts, the need to be met is much, much more important than any free pizza event catering to your growling stomach.
Our flyers provide education, hope, help, and support. Our flyers serve to assist women in unplanned pregnancies, offer resources for mothers, and provide healing for post-abortive peers. If you aren't out there posting and re-posting, noone is going to know about the resources, services, and opportunities that your club offers!
We challenge you to POST ALL THE FLYERS. Check out our selection of flyers for campaigns that you can host on your campus. Pick your favorites, download, and print. Get a team together and split up across campus to cover your campus. Here are some quick tips for a successful campaign:
Follow the rules. Some campuses require you to have flyers approved before posting. Go to your Office of Student Activities for this information.
Post in easy to view spots. Do not let students cover or rip down your flyers! 

 If others do this, go back and post another flyer. Check your locations from time to time to ensure that your flyers are still there.

Choose high traffic locations on campus. Great spots include the cafeteria, dorms, academic buildings, and bathrooms.
Keep posting! Organize your campaigns to last a couple weeks or a full month. Add new flyers throughout the month, and make sure that others posted remain up.
PRINT AND POST. Choose one of these categories, and pick the right flyers for your campus. For more Pregnant on Campus flyers, go to the Flyers page. Contact Beth for files if needed.
This post was contributed by Beth Rahal, Pregnant on Campus Coordinator. For comments and questions, please email Beth at [email protected]