Two Students for Life Groups Raise Nearly Thousands of Dollars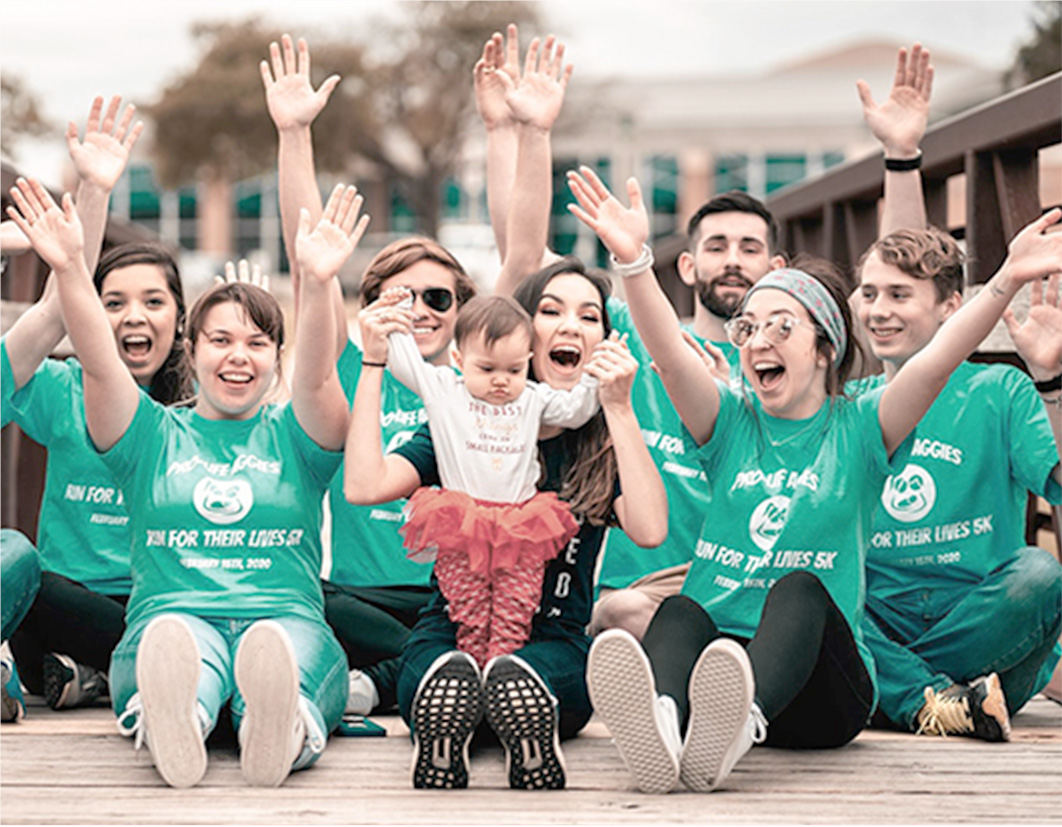 They say everything's bigger in Texas, and there seems to be no exception when it comes to scholarship fundraising for pregnant and parenting students. As part of our 5 Pillar Program, Students for Life heavily promotes aiding mothers in need through Supportive Services. How this is carried out can vary greatly and may include anything from diaper drives and baby showers to babysitting during finals week. Students at two Texas universities have taken their Supportive Services duties to heart after noticing a number of student mothers in need and have sprung into action in a huge way.
When we imagine fundraising efforts initiated by a student group, we typically think of a few hundred dollars to buy textbooks or baby items (an incredibly helpful endeavor, we might add). But in true Texas fashion, the Pro-Life Aggies at Texas A&M University took it a step further. Over the course of a school year, they raised over $30,000 for scholarships for 15 pregnant and parenting students on their campus. This group worked tirelessly to make a life-changing difference for these women. The key to their success was a 5K they named "Run for Their Lives." The race was hugely lucrative, as well as heartwarming when the group ended the event by awarding the scholarships to the women in person. They also raised additional funds by speaking at their local churches and putting ads in their church bulletins.
Down the road at the University of Texas, Texas Students for Life was working on a similar project. Where A&M impressed with their quantity, UT impressed with their speed. The group raised money for five scholarship applicants in under 24 hours after they couldn't just choose one of the deserving women for the one scholarship they had raised. They said:
"Originally this semester, we had planned to give out one $1000 scholarship to a pregnant and/or parenting student on campus. Last year, our biggest problem was finding people to apply. This year, we had FIVE absolutely deserving women apply. Our president, Alicia Torres, after interviewing one of the applicants, decided that we were going to raise an additional $4000 so that we could give a scholarship to all the applicants. We called everyone we knew, shared posts on social media, and did everything we could. In just under 24 hours, we raised the $4000. In total after the 24 hours had passed, we raised additional money through the campaign totaling over $8000 in 
scholarship funds. Not only were we able to give a scholarship to all of the women who applied, we were also able to get a head start on next year's scholarship."
This is what being pro-woman is all about. Being awarded these scholarships could very well have made the difference between a diploma and dropping out for any of these women. This type of loving community support is exactly what needs to be in place nationwide in order to make abortion unthinkable. With this network of compassionate help, no woman would ever feel like abortion was her only option. Way to go, guys!
To learn about how you can make a difference for pregnant and parenting students on your campus, contact your SFLA Regional Coordinator.