University of Michigan SFL group reaches out to pregnant students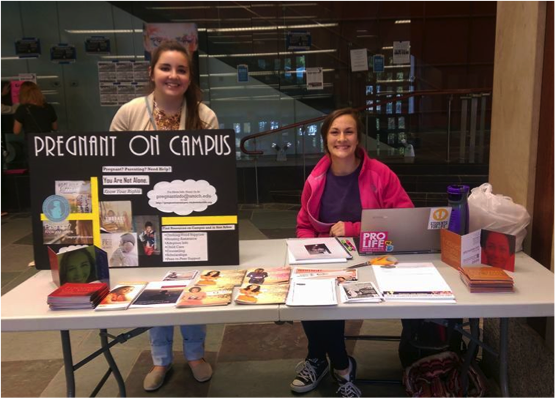 It's hard to be pro-life at the University of Michigan. It's even harder to convince people that Pregnant on Campus (PonC) is not synonymous with "Manipulate Women into Not Getting Abortions." But after a few years of building a foundation, our PonC projects are really starting to affect our campus, and people are beginning to realize that the core of the youth pro-life movement is all about caring for life – born or unborn, pregnant or parenting or neither or both.
"I'm pregnant. Now what?"
This was the subject line of an email we received from a pregnant student a few weeks ago. Our first line of communication with pregnant students usually comes through an email such as this one. Our email address for Pregnant on Campus, [email protected], forwards emails to me and a few other students in our SFL group, and whoever is able to respond first will address their questions and usually ask if they want to meet in person to talk.
College students love money.
This is not a phenomenon unique to pregnant or parenting students, although it may be more of a pressing need to them than to many others. One of our focuses this year was to start establishing a scholarship for pregnant or parenting students. We liked the idea of showing our dedication to helping them in a tangible and direct way, and we also thought that having a scholarship would be an effective way to draw students to us who might not otherwise ask for our help. With some of our own funds, a grant from the wonderful Students for Life of Michigan, and many generous donations from our friends who came to our fundraising gala, we were able to raise about $1000 and still have some left over to kick-start next year's scholarship. What is even more exciting is that we already have a student to give the scholarship money to!
Step into our office.
Up until this year, we have used our office space to store giant plastic bins full of rocks. Literally rocks. So when we were contacted by a pregnant student this year who wanted to meet, we hauled out the rocks, tucked our adoption pamphlets into nice little stacks, and stuck some posters from ArborWoman, the local Pregnancy Center, on our walls. The space transformed into the inviting, comfortable, life-affirming room that we intended it to be.
We hold open office hours on Mondays, Tuesdays, and Thursdays in our newly rock-free office in the student union. We rent the office through the Student Organization Resource Center (SORC), which also coordinates advertising and other services for student orgs. The goal of office hours is to provide a space where pregnant students, expectant fathers, or anyone else can come talk to peers, find resources, and ask questions in a safe, judgement-free environment. To get started each semester, we send out a Doodle (a really helpful online scheduling tool!) and Students for Life members sign up for hour-long shifts, usually one day per week, which fit with their class schedule. For the most part, we have one person manning the office at a time, but we always make sure to have at least one female member present. We don't know every pregnant student's story, and we want to make sure they feel completely comfortable.
Our office space is full of information – some we collected and typed up ourselves after surveying resources on campus and around the community, and some we've gotten through SFLA, Feminists for Life, Adoption Associates, ArborWoman, government websites, and more. But despite the myriad of flyers and pamphlets that we have collected, we have realized that every student we talk to is in a different situation and feels differently about their pregnancy, and there isn't just one handout we can give them that will tell them everything they need to know about being a pregnant student at the University of Michigan. Once we've talked to a student for a while, we have a better idea of what steps we can take to be the most helpful for her specific needs. We don't always know how to help right away during our meetings. We make sure to note all of the student's questions and concerns so that we can do the legwork and research the answers for them. I think one of the most important things to do is to lighten a student's load so that being pregnant or being a parent is not a burden, but a time to celebrate and experience the joy of life! It's important to remember, too, that we aren't experts, and we don't always need to be; there are so many people who we can reach out to and ask about services and resources. Networking with local pregnancy centers is key!
Spreading the word.
This year, we got tired of seeing the lack of advertising for life-affirming options on campus. With a little investigation, we discovered advertising services that were available to us at a (relatively) low cost through the SORC, and we got to work making Pregnant on Campus a recognizable name. Stickering, flyering, and chalking aren't the most effective for us, because usually anything we put up gets pulled down or covered up within a couple of days, so the Student Organization Resource Center (SORC) offered more permanent, harder-to-destroy advertising. We entered the lottery system with all of the other student orgs who applied and were able to get a week of advertising space in table tents in the Michigan Union and various other student spaces on campus, as well as a space in one of the advertising boards that are scattered across the "diag" that crosses our central campus. We also found that our Central Student Government gives out grants to student orgs to cover costs of basic things like advertising; so we were able to get some of our money reimbursed. I designed the diag board, and we had it made for a reasonable price at the University's Sign and Graphics Department. Then the SORC put it up for us. These boards are seen by thousands upon thousands of students every day. They are a fantastic way to spread the word about our group and the help that we are offering! We even got students' attention enough to attract a little bit of abortion-related graffiti. (Helpful hint: Choose a background color that doesn't show sharpie very well.)
It's all so worth it.
I spent my first few months as our SFL group's Pregnant on Campus Coordinator fretting about finding every possible resource available and worrying that I would somehow fail and make a pregnant student feel less supported. Then I talked to one amazing student, our scholarship winner, who was both excited and terrified to be facing college life as a pregnant student and needed our help. Suddenly, I truly felt like I was making a difference in her life, however small it may be. That's what Pregnant on Campus is all about: making even just one more pregnant student feel more empowered to follow her dreams while raising her child. As we advertised and set up tables of resources, talked to our friends and posted on social media, more and more students approached us to ask who we are or to tell us about their experiences as a pregnant student. Just recently, our second pregnant student reached out to us for help. I am starting to see that there is this whole invisible world of pregnant students at the University of Michigan, and Pregnant on Campus is truly helping bring them out into the light. Trust me, you want to be a part of it.
This post was contributed by Chloe Alberta of Students for Life at the University of Michigan. If you would like to share your group's work, please contact Beth Rahal at [email protected]