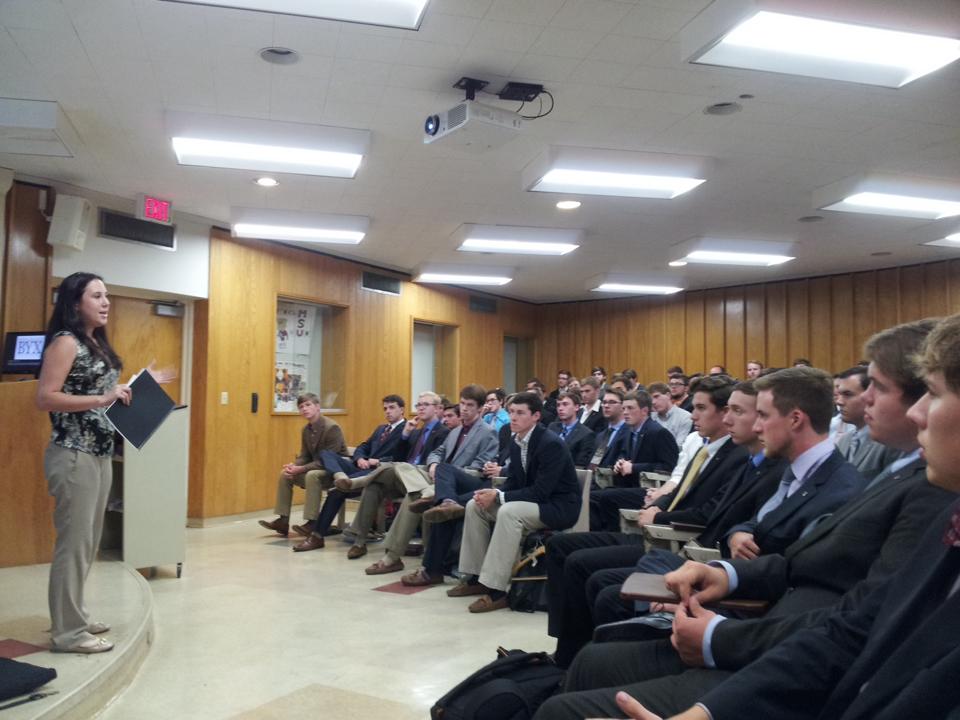 The Pregnant on Campus Initiative is aimed to support all types of pregnant and parenting students. We want to help every pregnant and parenting student have support as they enter parenthood and continue their education. With that in mind, student groups need to find new ways to reach groups that they may not typically interact with.
Greek Life is a popular involvement for many students in the Southeastern Conference (SEC), as well as at universities across the country. We asked 3 college pro-life student leaders about their efforts to reach members of Greek Life with the Pregnant on Campus Initiative.
What types of projects or outreach have you used to engage Greek Life?
Genevieve: Our plan is to get Greek organizations involved with outreach programs (like diaper drives, etc.), as well as to provide resources to sororities on campus… We have a Greek Affairs committee, the purpose of which is to create connections with sororities. We are basically recruiting people with sorority affiliations, who are willing to talk to their leadership and be our liaison since so much in the Greek world is about who you know! We have also applied to make things worth Panhellenic points, which is a good way to increase Greek involvement. For example, we were able to get Panhellenic points awarded to people who donated to our diaper drive!
Cisco: We are so early into it right now. Emails are being sent to the presidents and Vice Presidents. Our goal this semester is to go and talk at all sororities and fraternities. This semester, we also want to host a Greek-wide diaper drive to donate to local crisis pregnancy centers. We are hoping that we can get Chick-fil-A on board to see if they would donate (or discount) a prize for the sorority that raises the most.
Anja: Our group has started with Christian Greek Life. Last year, we spoke to a Christian sorority and that recruited a member! This semester, we visited the Christian frat, and several guys have remembered me around campus. I changed my presentation to fit guys more. Basically, now about 200 more people on campus know about the pregnancy resource center (PRC) here and our PonC resources guide (which I left with the presidents). As a result, people recognize us and stop at our table and sort of have us in their minds. Hopefully, this will lead to recommendations to us and the PRC. I'm visiting the college Catholic Association as their featured speaker. It's not Greek, but kind of acts similar to a frat/sorority in a lot of ways. We've also visited College Republicans and plan to revisit the Christian sorority as well as this Christian Agriculture club. I also made friends with the community service chair of one sorority.
Why do you think Greek Life involvement is beneficial to the Pregnant on Campus Initiative?
Genevieve: This is where so many of the women on campus are; so it just makes sense to reach out here.
Anja: In the South, Greek Life accounts for over half of most big pubic schools population. When people get pregnant, they turn to close friends, church leaders, and club friends. Greek Life is a very close community. If someone gets pregnant or their girlfriend gets pregnant, I imagine the people who they would turn to first would be their "big," "grandbig," "sister," twin," or "brother." They are literally called family. We want these trusted people to have answers for their family. Where can they go? How can they privately take a pregnancy test? How could we get help? It may be something in the back of their minds now, but if/when the situation arises, they won't be completely stuck with no information.
How do you hope this relationship will grow?
Anja: I hope that the Greek community takes unplanned pregnancy into serious consideration. Sometimes our culture might confuse preparing for unplanned pregnancy as the same thing as promoting it. We want Greek life to maintain their standards, creeds, and mission statements while also preparing for a loving approach to the unexpected.
Genevieve: We want to help make sororities more open and knowledgeable about pregnancy and parenting resources available. In the future, we hope to continue to be able to partner with Greek organizations for even more education and outreach programs. We also hope that Greek organizations will become completely open to pregnant women and will become a place truly dedicated to supporting and embracing them.
Any special Greek Life projects in the making (that you can share)?!
Anja: I would love for this sorority looking for a community project to serve a pregnancy resource center (PRC) or adoption center and in the process become more educated on resources available in the community. If our group can work along side them, everyone in the sorority will become aware of our resources.
Cisco: Our hope is to get active in the Greek community by starting a program called Greeks for Life. It is our way of educating the Greek about the sanctity of life and maybe even doing a clothing drive eventually and things like that to benefit our twist on the Pregnant on Campus Initiative.
We thank these bold leaders for uniting their community to support pregnant and parenting students! If your group needs ideas or tips for engaging new groups on campus, please reach out to our team, or contact our Pregnant on Campus Coordinator.