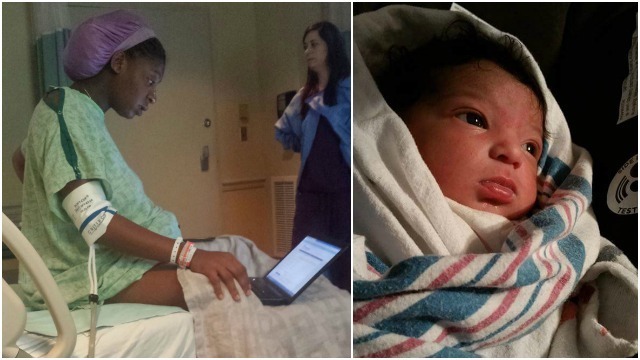 On Thursday, November 12th, Tommitrise was getting ready to welcome her baby girl into this world, but even as she prepared for labor, she couldn't quite sit back and "enjoy" labor. She still had a college psychology test to take!
"It took me 4-5 hours after the opening of the test to try to put the pain to the side and do it so I wouldn't have to do it later and I could enjoy my newborn."  About an hour and 30 minutes, Tommitrise finished the two-hour exam and received a B! The Middle Georgia State University student boasts a 3.6 GPA, and she will be graduating with a  bachelor's degree in Criminal Justice next December.
Capturing the moment and sharing it with the world, her sister, Shanell, posted on Facebook: "This is what you call 'Strong Priorities'. Contractions 3 minutes apart and still takes her Psychology Test! You are going to be a great mom baby sis!"
At 9:19pm, Tommitrise welcomed her baby girl, Tyler Elise.
"She is my life now, and the way I look at it is she will always have me to depend on so my goals will not be put on hold. I don't want to just barely make it by. I want my child to live comfortably, and I want to show people that just because I am considered a young mother doesn't mean I have to be considered a bad mother."
What about students' rights?
Tommitrise's story is awesome, impressive, and bold! She should most certainly be applauded for her strength and commitment. At the same time, her story should cause us to pause and wonder why a woman about to meet her newborn feels pressured to complete an exam rather than focus on labor.
All federally funded schools are required to abide by Title IX rules (which protect pregnant and parenting students from discrimination and unfair classroom policies). However, it seems that our schools have failed to educate staff and to inform students of what accommodations are appropriate in these cases. In our work assisting students through our Pregnant on Campus Initiative, I have encountered a widespread confusion among both university staff and students regarding the rights of pregnant and parenting students. Common questions that we have encountered include:
Can I be excused for labor and recovery?
I'm in a high risk pregnancy. What happens if I need to miss class?
Can I keep my scholarship?
Do I have to quit my sport's team?
My school is encouraging me to drop out. What do I do?
When I read Tommitrise's story, I'm inspired but also troubled. I see two possible violations of Title IX:
If a student misses class due to pregnancy, childbirth, or other related conditions, the school must allow the student to make up the missed work and provide the appropriate information to complete assignments.
If a doctor has provided a note deeming a student's pregnancy-related absence as medically necessary (such as in the cases of bed rest, childbirth, or recovery), that student cannot be punished for missing class or another school activity (e.g. lose points for class attendance) regardless of the school's or professor's classroom absence (or attendance) policies.
making our own choices
Tommitrise very well may have addressed these issues and instead opted to complete the exam. (Note: Her aforementioned quote about not wanting to do it later and wanting to enjoy her newborn.) However, I hope that other women do not feel pressured to do the same. Students should be allowed a reasonable period to make up that exam rather than feel forced to answer questions between contractions.
Pregnant students need to be encouraged in their educational pursuits, but also protected from putting their health or the health of their child at risk. As student advocates, we need to continue to educate our campuses about these rights and to encourage pregnant and parenting students to openly discuss their concerns and needs with their professors.
This post was contributed by Beth Rahal, Pregnant on Campus Coordinator. If you have questions regarding your Title IX rights, please see our "Students' Rights" page, or contact Beth Rahal with your specific case.